Back In Service
After 2 and a half months of being immobilized in the arm, I have finally been on a more stable, and useful, road to getting better. My shoulder is the most fucked up part about all of this. It looks like I won't ever gain complete rotation back, but I have a lot of physical therapy to do and a lot of muscle I need to build back up on my shoulder, and arm in general too.  The good news is...
Broken Arm
Well, I broke my arm this past Sunday. I was bike riding and took a spill, dislocating and breaking my arm. I spent 12 hours in the hospital. Good times! That means no guitar or biking for a good while. =[
7 tags
A Little Too Quiet...
Music has been at a boring ass stand still lately. I'm about to quit one shit band, it's just a waste of my time at this point, as much as I love playing and love some of my band mates. Shadows Entwined has been moving a little slow because practices have been few and far between. It's still making progress, though. We have our first show, August 2nd at the Rainbow Room in...
The Rig Is Growing...
I finally received my Voodoo Lab (technically it's a DMC still) Ground Control Pro midi foot controller yesterday. I went out and bought me a midi cable and set it up last night! I already have all my preferred amp presets all configures! Various lead and rhythm configurations! It's great! It's all just a smaller step towards realizing my greater rig dreams! I'm ready to...
New Amp! Finally!
So a little over a week ago, I finally found/made a sweet deal on an amp. This guy was trying to sell his Engl Invader 100 for quite a while and never had any success. I was dealing with him and haggling on and off, but after he had no luck he finally broke down and sold it to me for 1950 flat, shipping and all. I just got it yesterday and it looks brand new! It sounds fan-fucking-tastic!...
Amp Buy/Sell Fail
Well, the amp I was looking to buy, the Engl Special Edition for $2,500 is falling through. These guys that are selling it are totally making it harder than it has to be. *sigh* It seemed like such a great deal, too. I even worked him down to $2,400…. Oh well. Next time around, I guess.
8 tags
The Lord of the Amps
So, as I've been on my quest for finding "the amp for me", I found a sweet deal on a used Engl Special Edition E670….One amp, to rule them all… It's that awesome!  Now I just need to muster up the rest of the money I need to buy it. I've got some serious gear plans, so hopefully it all works out. Still need to find the time to update on my bands....
Bands and Gear, But Mostly Gear
I'll be posting some updates soon about my bands. First, though, I'm in a gear rut… I'm totally looking to spend some money on new, good gear. I want to start a little rack. So far I got myself a sweet Korg DTR-1000 rack mount tuner. I love that thing, so simple, but efficient and it looks cool. It adds to the stage. I'm in the process of getting myself a nice power...
kiichichaos: Another "Massive Check" From Matt... →
matthewkiichiheafy: SOPA The movement to end all online piracy for the music and movie worlds and restore order? Hardly. SOPA is an explosive-device tucked between the legs of a smiling, waving buisness-man in a teddy-bear costume, asking if you want a Popsicle out of his cellar. In legal terms - SOPA is…
Shadows Entwined →
For those of you inclined towards metal. Please, check these guys out. However, the band line up is changing, including vocals, but it will still be more or less the same. Check it out.
Band Search Update
Ok folks, so about 3 weeks or so ago, I posted an add for a lead guitar player on Craigslist, and I posted the music I play, love and know. I was contacted by various people, some guys young, some guys old, various styles of music. Two bands that had a pretty solid and promising sounding thing going were both asking me to learn songs to audition. One is a Spanish Rock cover band, focusing on hits...
Band Placement
Alright everyone, I'm finally quitting my shitty band, so if anyone knows of a heavy metal band looking for a guitarist in the southern CA region, let me know. Shit, or even elsewhere abroad, I would love to join a band that's already on it's way. More posts later on… I've really got to start updating more.
Reset
Time to kickstart this bitch and get it goin' again.
7 tags
Upcoming "Gig" on 11/6/2010
So my band and I have this "gig" coming on this Saturday. I'm really not looking forward to it, at all. Let me lay it down for you guys. First of all, we have hardly been practicing at all this month. It's just been a busy month for all of us. I've been having parties to go to, I had the gig cameo with my Dad's band, some of us have had to work, and one of us...
4 tags
Guitar Lessons 10/29/2010
So this past Friday, my student and I finished learning another part of the main riff to Seek and Destroy by Metallica. It went pretty good, we tuned up, which is normal. We then went over the riff from last week, to make sure she had remembered it. Everything was good there, then we took our first step to learning the new part. I still haven't quite figured out how she's so out of...
1 tag
Guitar Lesson 10/22/2010
So this past Saturday's guitar lesson went really well. It was actually the first one in a couple of weeks. We had to skip two lessons due to schedulng and being busy. This week we tried to cover some basic techniques, like hammer-ons and pull-offs. This was attempted because the last song we went over and taught my young student was the main line for the White Stripes son "7 Nation...
Jam Session 10/24/2010
So this past Sunday's jam session went okay. Our bass player didn't show up, because he was sick, supposedly. He was supposed to show up at a party the day before but didn't as well. We're all suspicious of his wife (dude just got married less than a month ago) because she's the manipulative type. That's a whole other topic, though. So the jam session went...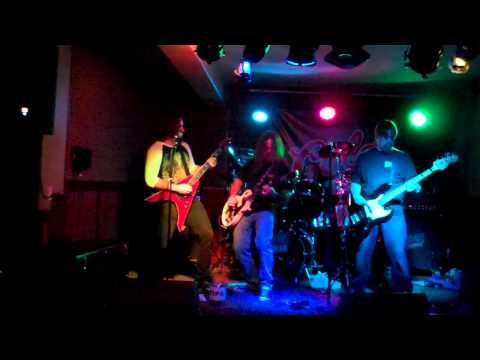 Jamming With The Pops
So this Saturday my Dad's band has a show coming up. The cool thing about it? I'll be jamming a song with them. I'll be jamming Breadfan as covered by Metallica with them. Ever since I was little, I've always wanted to play drums, but drums are expensive, so I got into guitar. Music, and heavy music in particular, is definitely in my blood, because my Dad enjoys the same...
Iced Earth and Sons Of Liberty
So this past Saturday, the 25th, was the Iced Earth concert. The opening band was The Sons Of Liberty. For those of you who don't know, Sons Of Liberty is a side project of, Iced Earth rhythm guitar player and primary member, Jon Schaffer. Sons of Liberty is all about exposing the travesty and tyranny of our government. The songs contain a REAL message. So first off, the show was supposed...
Guitar Lessons
So, this is way past due, but this is for guitar lessons that took place on September 17th, 2010.  So, my student came over and this time we just reviewed the topics from last time, tuning the guitar, etc. We also reviewed her homework. Her homework was to memorize the names of all of the strings in standard tuning and to practice an exercise run. The run is just a quarter note chromatic run type...
Guitar Lessons
So this past Friday I resumed giving guitar lessons to a little fan. We had tried doing lessons before, but I had no idea how to approach it, even though I have been playing for a long time. I also think I put too much pressure on myself as a musician lacking in musical education. I felt I didn't have the "right" to educate someone in guitar. This time around I definitely have...
Hello and Welcome
Hello tumblr. Thanks for existing. I will attempt to now create my Musician blog and information page. Welcome to my tumblr, hopefully it will start to grow and evolve soon and quickly. I'll be making the occasional post, hopefully sharing information, but this will also primarily be used as my artist information page for people who might want to jam with me. Will post again soon. See you...